Analytics
"If you can't measure it, you can't improve it."
Evolucare Analytics is a data management solution designed to help you steer your activity.


Managing data is a high stake for healthcare. It is essential to capitalize data to better treat patients ; you need to be able to reuse the data to develop artificial intelligence. You also need to be able to process and analyze data to steer your operations and improve processes for the benefits of patients and practitioners alike, to decide on strategic orientations and ensure a quality of care that matches everyone's expectations.
Evolucare Analytics offers a full range of data analysis and reporting solutions for all your users and all your activities.
Evolucare Analytics offers a better view of reality to support a better decision making process.
A platform with a complete range of solutions for ALL users
For maximum efficiency, upgrade to a single platform for all your fields of activities.
Our solution is suited to all types of users, dashboard consumers and fans of personalized reports alike.
Our evolutive package allows you to adapt the solution to your current and future needs, with your team's maturity in mind.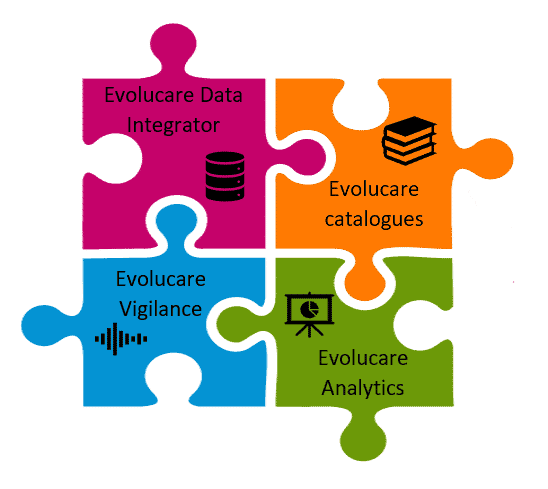 For the leadership teams
Management teams love our catalogue reports : we provide them with industry standard reports for comparing performance from site to site and year to year.
For the operational teams
Operational teams that need customized data extracts and analyses will find our requesting tool extremly simple to use. 
For the IT teams
Finally, for IT departments, opt for autonomy. In addition to our data integration tool, wich is easy to use thanks to a visual representation of processes, the Vigilance module will supervise operations and ensure the tool runs smoothly and stays up-to-date.
For software publishers
Software publishers in search for a business intelligence solution will leverage our full range of solutions – from data integration to preparation of catalogue reports – to complement nicely their offer.
You can access our offer :
by purchasing a one-off licence and annual maintenance,

or through a monthly or yearly subscription.
Our fees are for an unlimited number of users.