Discover Evolucare
Building tomorrow's health together
'Is there anything more precious to man than health ? '
Socrates
Evolucare is a family business created more than 30 years ago, combining experience and agility by capitalizing on its historical products and innovation to ensure its transformation within a fast-changing society.
As an expert in the field of medical IT, Evolucare is committed to its mission of connecting the world of healthcare to give it effective and cost effective means to provide better care.
Evolucare's strength is based on the diversity of expertise of its business and technical teams and the responsiveness of its support functions. In addition to the pool of skills of its human resources, there are undeniable human values that contribute fully to Evolucare's success.
The Evolucare Group is…
5000 customer sites
30+ years of business expertise
10,000 service days per year at your side
OUR VISION
Acting close to where people live
OUR MISSION
Innovation and leadership
Our healthcare system faces many challenges
Our healthcare system is facing the need to speed up its transformation, particularly in terms of digital technology, a proven efficiency lever without which this transformation would not be possible.
Health policies aim to reduce social inequalities in healthcare, by positioning technological innovation as a factor in optimizing care.
The transition between hospital and home, the coordination of care providers and the continuity of local care are all challenges to be met.
With our local presence, we help healthcare professionals to act locally, as close as possible to where patients, users and residents live.
A daily commitment
"Our founding values guide our actions, giving meaning to our daily commitment. They encourage us to constantly improve, to work together and to help our customers achieve their goals."
Philippe BLANCO, President
Honesty, openness and sincerity are the cornerstones of all our internal and external relationships with our customers and partners. Thanks to these values, we have been able to build solid, lasting relationships based on mutual loyalty.
For us, commitment is a state of mind. It drives us to devote ourselves fully to guaranteeing our customers' success, never abandoning them until their objectives have been fully achieved, even beyond the contractual commitments that bind us.
Respect for our employees, our customers and their patients, residents and users is a fundamental value. We act with integrity and kindness to meet their needs. Acting ethically is an inalienable principle that underpins our commitment.
The trust our customers place in us drives us to apply our business expertise every day to provide them with solutions and services of the highest quality, in order to meet their needs and exceed their expectations.
Technological innovation is in our DNA. We seek out the best in technology to improve what already exists, while inventing new ones to meet the ever-changing needs of our healthcare system.
Acting close to where people live
The Evolucare Group supports the rapid transformation of the healthcare system.
Alongside professionals, we want to give patients-citizens easier, coordinated access to quality care.
Through innovation in e-health, with a focus on well-being and good care, and thanks to our presence in every region, our solutions enable healthcare professionals to act locally, as close as possible to where patients, users, residents and caregivers live.
At Evolucare, this vision is a daily reality, based on a human approach to putting technological progress at the service of the citizen.
Innovation and leadership
Our strategic mission is to become a pan-European leader in digital healthcare services, hospital information systems, medico-social systems and regional information systems, with a focus on life-course management for all.
Our collaborative innovations reinforce the support we provide to our customers, and enable us to work with them to design the medicine of tomorrow, thanks in particular to the integration of technological advances such as artificial intelligence.
Let's work together to build a health continuum linking the world of healthcare to that of medical-social care, in a way that respects the safety of everyone and the environment.
A multidisciplinary and innovative approach

 Solutions that support the patient's life course and the well-being of users and residents, for all types of establishments.
Our values
Our changing world and the crises it is going through are pushing healthcare institutions to accelerate their digital transformation.
Digital solutions are an efficient lever to facilitate the exchange and sharing of information, but also to facilitate consultation and coordination between all the players in the healthcare chain.
At the same time, they optimize the time of healthcare professionals, allowing them to focus on their core business, which is not IT but the care and well-being of the patients they serve. Our group is currently undergoing a transformation to become bigger, stronger, by your side. What will not change are the values we stand for: loyalty, commitment, respect, excellence, innovation.
Innovation : Evolucare Labs
Evolucare Labs, created in 2017, transforms ideas into operational prototypes that, once validated and certified, feed the portfolio of solutions for our customers and prospective customers to the ultimate benefit of patients, users and residents.
At the heart of our business, expert algorithms are developed as part of a collaborative innovation strategy. The synergy with universities, research laboratories, hospitals and start-ups gives the Evolucare Group the ability to anticipate the necessary digital transformations.
Evolucare Labs projects focus on 4P medicine (Personalized, Predictive, Preventive, Participative) that places the patient at the center of the health system.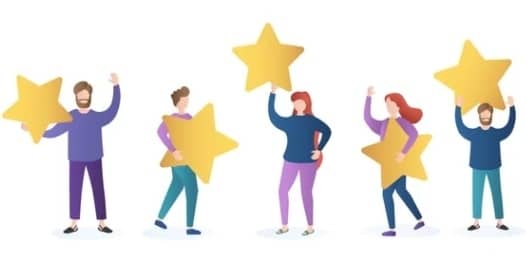 This is the percentage of customers who would recommend our products among those who responded to our 2020 satisfaction questionnaire.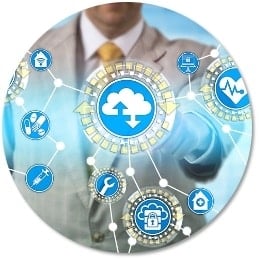 Our expertise, our businesses